It has been a varied week here at FMheathen blog HQ; starting with something very much embedded in real life with the much appreciated and humbling feedback from my last post Remembrance day special: Walter Tull, football hero (thanks all), which really pulled at my heart strings given the topic, and ending with a new audioblog and most excellent finale in our virtual world of little pixelated men that we fondly call FM.
In addition, I also put out the following poll with an eye on taking this save into a new direction, mostly given the love for the Walter Tull football history angle:
Sadly though, due to my own lack of prior research, it turns out that despite the poll result the idea is a non-starter (note to self: when you ask people do they want you to do a retro save with an old league, check first that the league isn't pretty much EXACTLY the same as in it's current form). What a tool, should have checked first, my bad etc. etc …
Instead (and maybe not as a regular thing because let's face it I'm a bit random) I thought I might throw in the odd bit of WW2 history here and there, though don't worry I will keep it short and you can just skip forward a few paragraphs to the FM stuff if you like.
1) The history bit: Caen in WW2 (skip to part 2 if you want to get to the FM)
Ever been to a museum? Daft question I know but now imagine going to a place where THAT is the museum, the WHOLE place, where every single handful of sand and blade of grass is part of one of the most incredible and almost unbelievable events in human history. Well that is what it feels like to visit Normandy and the D Day landing beaches in Northern France.
To give you an idea of what I mean, I'm lucky enough to have been three times and on the first occasion with my best pal back in 2008 we drove off the ferry at Ouistreham, just 9 miles from SM Caen's stadium, only for me to point at a Sherman tank randomly parked at the side of the road and shout "wait, stop!" to which he replied "calm down mate, they're everywhere" and drove on. He was right of course as within a day we had been saturated with the sheer amount of history around us which was pretty overwhelming to say the least.
But what of Caen, a city right at the heart of the D Day story and also the focus of this FM save? Let's have a quick nosy at what happened there exactly 75 years ago this year.
Firstly, the notion that the 160,000 landing troops, 12,000 planes, 7,000 ships and 24,000 paratroopers captured everything on the 6th June 1944 is a myth. In fact, though they had established a beachhead by the end of the day, hardpoints such as Caen and the surrounding area were in fact not captured and were bypassed until such time as they could be. To show you what I mean, here is the wiki map, showing how the forces had surrounded the town but not taken it, right up until the end of July (SM Caen's current stadium, the Stade Michel d'Ornano, is approximately where the letter 'C' of Caen is):
As mentioned, during D Day and the immediate aftermath this area was very well defended, notably by the German 21st Panzer division who had been contained at Pegasus Bridge by the Ox and Bucks regiments led by Major John Howard (incredible story which you can read more on on the wiki here) only to make a stand surrounding Caen. One wonders what happened to these poor fellas from the 1934 team during all this. The league was suspended from 1938 to 1947 of course but let's hope at least some of them survived, if not all of them, though sadly it isn't likely.
Ultimately the battle culminated in engagements such as the following, the taking of the airfield at Carpiquet just 2 miles from SM Caen's current home, which you can see here:
Finally in late July, and with the city almost levelled as shown here, the battle for Caen was over, leading of course to the liberation of France, the invasion of Germany and ultimately the end of the war on the 8th May 1945.
What a story, lest we forget yet again, eh fellas?
2) The FM Bit: update highs and lows (with a slice of promotion)
So now onto the juicy bit that we all love, when beautiful things like this happen to remind us why we love to play this game, when your first ever signing whom you had deliberately bought with pace and strength in mind to shore up the defence 9 months before pulls off a ferocious (some would say impossible IRL) slide to secure promotion in the 92nd minute of the final game of the playoff:
Take a bow Baissama Sankoh with your two lovely little green attribs for speed and fitness 🙂
So there you go, starting oddly with the end at the beginning for this FM bit I am happy to tell you that after a torrid end to the season we remarkably secured promotion via the playoffs, which tbh wasn't really deserved but we'll take anyway.
That said, I think the board are more than a bit schizo as they immediately felt like this ..
.. and then this ..
.. the wankers (sorry did I say that out loud?). In other words, welcome to the FM20 beta, where FM blogs don't just have FM, which start where they should have ended and pretty much everything is not as you would expect..
Which leads me on to ..
3) UpdateSchmupdate
I think it's fair to say that I should have waited for the proper release before starting the save because as you are all no doubt aware it has been an interesting couple of weeks for the match engine. Firstly we had WB tennis, where they constantly switched play to each other like the Bogg brothers who I used to play footie with in Peel Park (I kid you not, that was their real name – my uncle, who was a bit of a whit, said "Bogg? I bet everyone shits on you" when he first met them 🙂 ). Then we had the same WBs refusing to cross but cutting in to shoot into the side netting, coupled with the one on one debacle, where it was impossible to score, like, one on one (obvs).
That said, as SI patched it in response, it was a tale of two updates as we approached the end of the season, with this occurring (spot when the update came) ..
Thankfully we had already been at the top for a while with a 7pt lead and also thankfully the teams below us seemed to be having similar struggles. With the lead being chipped away though I decided to reach for excel and produced the following analysis for the 8 games either side of the update: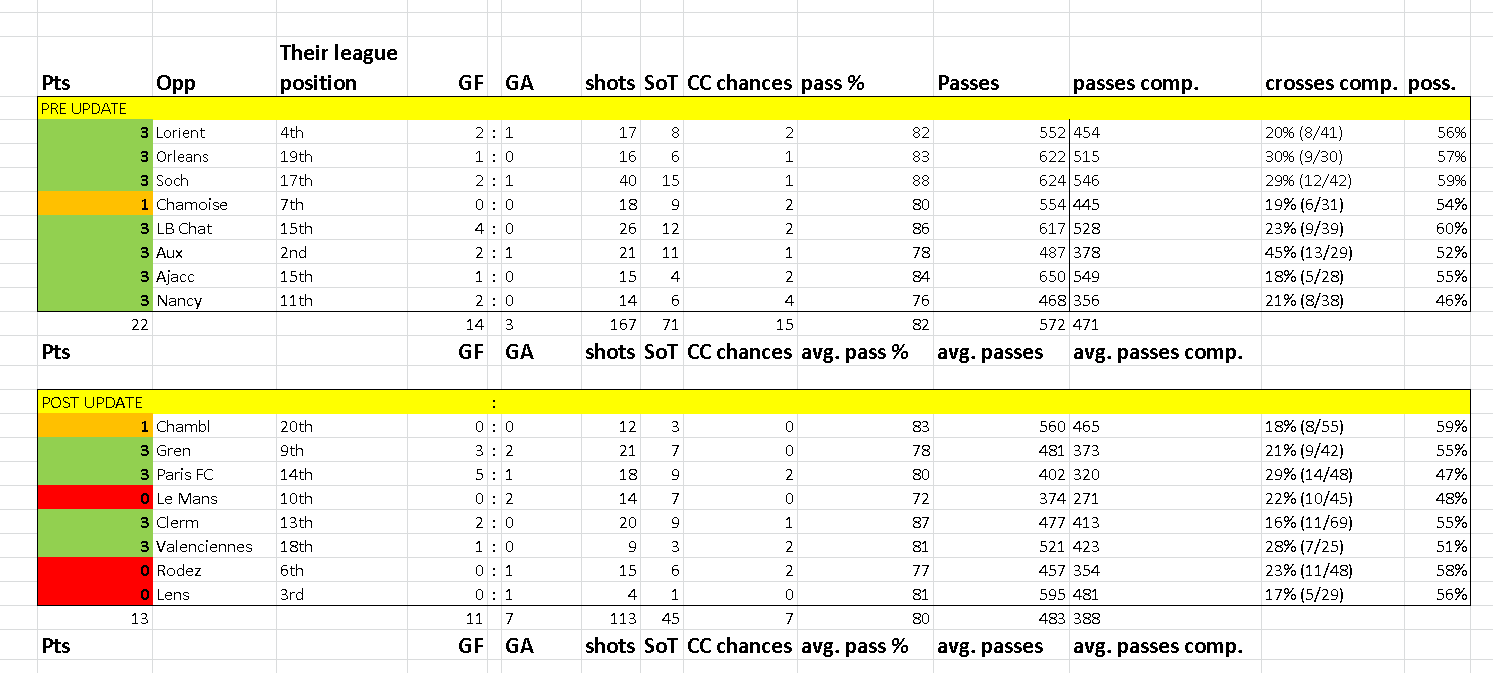 To summarise, despite no massive changes in tactics pretty much all the good stuff was going in the wrong direction – GF/GA/Shots/SoT/Passes etc. but more crucially points, meaning we dropped 9 and ended the league proper in 3rd place with a gutting defeat on the final day of the season which otherwise would have secured automatic promotion.
So what to do? Going into the playoffs it was time to knuckle down and start to play the game proper. I did the usual stuff, as follows:
SCOUT THE OPPOSITION: we were lucky enough to have gone straight into the semi so I went to watch the quarter final and made notes
(Try to) SORT SET PIECES: (we had scored just 1 FK and from just 2 corners in the whole season ffs)
CLEAR THE TEAM SHEET AND START AGAIN: had to be done, as I assessed every player's season stats, fitness and form ready for these final two games
REVIEW THE TACTIC: Obvious really but with just 4 goals in 8 games I needed to dramatically increase our score rate somehow but also not go balls out
The result then was as follows ..
4) Three games to rule them all
GAME 1: Playoff Semi-final vs RC Lens
I have to say that I have never bricked it as much in an FM match since way back in the Heathens universe when we played City in the Champions League final to end the save with the magnificent quintuple. This was obviously a big game but the fact is that not only had we been absolutely shit of late, we had also only taken a point from RC Lens in our two league games, with a 1-1 draw and a 0-1 defeat.
Surprisingly though the analysis and rejigging work obviously reaped rewards as we smashed the arse out of them in a first half flurry that had them absolutely floundering. The only other reason I could give was that their players were tired given they had played a few days before in the quarter final, which had gone to ET and pens.
Needless to say, I was well chuffed with this and cracked on to the playoff final, which in France is in two legs, which I have to say is pretty crap IMO, never liked it and never will, a final should be a single winner takes all game, 'nuff said.
GAME 2: Playoff final leg 1 vs OGC Nice
If the semi win was a nice tasty aperitif to a fancy meal then I would have sent this first leg dish back and asked it to be rewarmed, maybe with a bit more salt.
This was because it was truly dire with the only redeeming feature being that I kept the buggers away from goal.
From the outset it was clear that tiredness was playing a part in both team's performances (anyone else noticed it seems more apparent this year?)
GAME 3: Playoff final leg 2 vs OGC Nice
As I said at the start of this FM bit, certain moments such as when my first signing Sankoh cleared the line in the 92nd minute of this game define a save.
But that was not the only such moment in this final game, when a fair to middling reserve team AMC called Jalil Enjolras, who had only played 1 game for us (which we lost 1 nil and he got a 6.4) scored the goal to win us promotion 🙂
Pre-game, the loss of his first team counterpart, the solid Jan Repas who had scored 7, assisted 4 and got a 7.2 avg for the season, seemed a devastating blow.
With not a single first team replacement I delved into the reserves and came up with Jalil, whom to be perfectly honest had done literally nothing to stand out, with performances and attribs that were a bit, well, meh ..
But cometh the hour, cometh the man, when the little beauty pounced on this cockup of a throw-in that made a mockery of his positioning of 6 but definitely spoke of his determination and vision for this level:
So there we are, with a bit of history (despite not having to go back and play in 1948) and a couple of wonderful moments, we are promoted to Ligue 1 for the full release of FM20.
Best wishes, thanks for reading so far and I shall see you there!
Daz aka @fmheathen pretty much everywhere
PS here is the audioblog all embedded if you fancy a listen ..