So after 2209 hours (or about 92 days) of gameplay over two editions it's all done with the quintuple, ending with the FA Cup final win over Liverpool and a bloody perfect save-ending win in the Champions League final against City at the Bernabaeu, oh yeah baby 🙂
Whilst I am sad to see the save go as it has been such a part of my life for the past 18 months the fact that it ended in this way could not have been more perfect. I am also extremely busy at work so it was time to move on to a less stressful save as well!
All that said, while I am only skipping over the details in these sections (as I have already blogged a lot of it) here is a brief summary of the whole save split into the following parts, with links to the relevant blogs if needs be:
The success of the affiliates
Players of the save
Key games
Final trophies and awards count
.. and finally
1. The success of the affiliates
When I finished the FM18 save with the FA Cup win over Liverpool it left me in a bit of a bind about where to take the save going forward into FM19. I needed something that would ..
.. link into the existing narrative
.. sustain mine and my followers' interest
.. be a good, long term challenge
After a while of planning I came up with the Heathens Global angle that you are now I am sure familiar with; which diverged from my original narrative at a point in 1976 when the Man City suits had blocked our development of a new ground on a site called Old Trafford. For me it fulfilled all the above objectives so all well and good. However the planning of it was something else, ending with a total of 21 affiliates who all needed input in the form of either loanees or finances.
In terms of playability, although this made the game realllly bloody slow at times it was really interesting to watch them grow and see the direct result of the partnership. I did a full mid-save review of it here called 'the away leg' if you want to take a more detailed look but basically this is the final summary of our affiliates' success in numbers (measured across just 18 of the affiliates as some were dropped mid-game):
But to really sum up this section, here is a screenshot from the high point from the January of this final season 🙂

2. Players of the save
As always in any save there are certain players who absolutely smash it and live long in the memory and for me, here they are in order of position, front to back (spot the German theme):
NAME: Fiete Arp
POSITION: striker
BEST ROLE IN MY SAVE: DLF
DETAILS: Ok, so none of us can pronounce his first name but he has been a massive hit in the community this year. For me he came in at a time when we had just been promoted and were seriously lacking firepower. Worked amazing as a DLF with scores and assists but lost it all in one literally overnight after one of the friggin' FM updates and has been shit for the past year 😦
NAME: Kai Havertz
POSITION: Attacking Midfielder
BEST ROLE IN MY SAVE: AM support or attack
DETAILS: Kai is the FM19 love of my life. The fact that he has periods when he bangs in almost a goal and an assist per game means the boy can do no wrong, even when he has these really odd spells when he doesn't do anything for 5 games. His role is incredibly versatile too and if the save had continued I would have definitely explored this a lot more (he also scored in the Champions League final).
NAME: Edward Aponza
POSITION: Central defender
BEST ROLE IN MY SAVE: CD defend
DETAILS: My scary looking Columbian Eddy Aponza holds a very special place in my heart as he was part of my prodigal sons project, which led us to our first league win after recalling a bunch of top loanees (full blog about this is here if you want to read it). All I can say is that his almost weekly complaints about wages, contracts, playing time, his cocaine allowance etc were all forgotten when he rolled up Mbappe and put him in his pocket, not just in the Champions League final but in every game we played against City this year 🙂
NAME: Edison Carlos
POSITION: Goalkeeper
BEST ROLE IN MY SAVE: SK support or attack
DETAILS: it is said that the dead zombie-like eyes of Edison Carlos are the last thing a lot of opposing strikers remember as they are carried away screaming from yet another missed tap-in or penalty. The boy is an absolute beast between the sticks who almost single-handledly carried us through our rough patches with a ridiculous 34 clean sheets in all competitions this season.
3. Key games
It goes without saying that the last game is the Champions League final win against City, but I also wanted to include games from the whole duration of the save that had been IMO key turning points, so here we go:
OPPOSITION, COMP & DATE: vs Bristol City, League, 5th August 2018
RESULT: 1-0
DETAILS: The first game of the save! Notable not just for this but also because my newgen striker who was the only player I had retained from the FM auto-filled start team scored the winning goal. He also scored the two goals to send us up and ended the save at PSG worth 100mil after they came knocking (which is why I didn't include the selfish bastard in my top players, even though I did rename him after my Uncle Sid who loved United 🙂 ).
OPPOSITION, COMP & DATE: vs Arsenal, FA Cup, 14th March 2020
RESULT: 6-1
DETAILS: Was so happy with this. I had spent a lot on rebuilding the team to fight for the PL and Barkley's hat trick sent me over the moon. I had missed out on him on a free in FM18 but he more than made up for it this season. We went on to lose the semi against Everton on penalties though sadly.
OPPOSITION, COMP & DATE: vs Bayer 04, Europa league final, 18th May 2022
RESULT: 2-3
DETAILS: Absolutely cracking end to what I thought was just going to be a consolidation season, with my new signing Luka Jovic bagging a lovely hat-trick to win us the trophy in our debut European season! We even beat Inter in the semi despite losing the away leg because our home form has always been so strong, right since the start of the save.
OPPOSITION, COMP & DATE: vs Man City, League, 30th November 2024
RESULT: 7-3
DETAILS: For me, THE absolute turning point of the save. A devastating result away to our noisy neighbours just a mile away that forced me to take a step back and write a whole tactical blog which you can find here:
Heathens global #8: dissecting a Manchester massacre. After this we started to win pretty much everything leading to where we are now.
OPPOSITION, COMP & DATE: vs Bournemouth, League, 10th May 2026 RESULT: 2-3
DETAILS: The game that confirmed our first ever Premier League title in our 148 year alternate history at the fantastically named Eddie Howe stadium, bloody lovely stuff!
OPPOSITION, COMP & DATE: vs Man City, Champions League final, 29th May 2027
RESULT: 1-3
DETAILS: Perfick. Not only did the aforementioned Eddy Aponza keep Mbappe in his pocket, he bloody scored as well!
By the way, audio commentary of that full game is here if you want to listen to it:
4. Final trophies and awards count
Club honours
It has been a long journey to get here so let's see what bling we picked up along the way. First though, check this out that I've just noticed – the merging of the fictional history I wrote pre-game in the editor with our latest wins in both FM18 and FM19, love it!
Onwards to the full list of a promotion plus 12 trophies during the save, as follows:
1 x Championship promotion in 2019
1 community shield in 2026
2 x Premier Leagues in 2026 and 2027
3 x FA Cups on the bounce, 2025, 2026 and 2027
2 x Carabao cups, 2023 and 2027
1 x Europa League in 2024
1 x Club World Championship in 2023
2 x Champions League in 2024 and 2027
Manager honours
On a personal note, here's what I achieved during the save:
8 Manager of the months
1 manager of the year
Entered the English managers hall of fame
Player honours
Sadly this is the one thing we were lacking in! We got none of the world awards, though Kai Havertz (bless him) got the PL player of the year in 2026 and 5 player of the months, while Fiete Arp and my keeper Edison Carlos also bagged a brace each. Not much of a return to be honest given the success of the save. Oh, and also Ruben Neves got 3 goal of the months this year alone! That said, I'll take this as a final reassurance that we were being noticed after all, when we had the most players in the World Team of the Year 🙂
.. and finally
I've already been asked a few times where the save is going next and the answer is it is being retired. I honestly can't think about how to better this and feel as though I have wrung all the life out of it in terms of playing it in future editions. Who knows though, maybe I will return to it in FM27 for nostalgia reasons (if I'm still here) 🙂
On an (almost) final note, here is the goal that won the bloody goddamn wonderful amazing Champions League for us from my boy Kai against City because it's easy to forget with a facts and figures blog that this is THE most important thing 🙂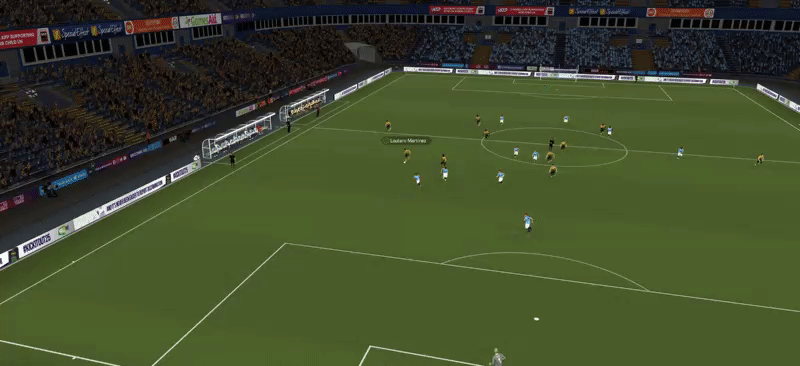 Thanks to all of you for sharing this incredible gaming journey with me and for your support all the way through, it really is very much appreciated indeed.
Bye for now,
Daz aka @Fmheathen