I don't know about any of your good selves but I've always found that a save often dictates it's own path and style of play, especially a few years in. That said, that's where I now find myself in this save, where it iseems to be begging for me to focus on youth development above all else. This isn't to say that I haven't used youth as half of my current first team squad came to us in their early 20s. However, most were already first team level and I haven't really used that lovely stock of loanees that have been developing very nicely thank you and are now ripe for the picking. Hence we shall be recalling and using this rather smart bunch of prodigal sons.
Why? Well .. after finishing 4th yet again this year behind City (booooohhh), Liverpool (booooohh) and Chelsea (less of a booooh but still) we are crying out for a change in direction and new long-term strategy. I'd told the world and his dog on this very blog how I was so bloody clever cashing in my affiliate loanees to buy marquee players and even hinted it would buy me the title (303 mil of sale vs 321 of buys). However sadly when the fat lady sang we just couldn't cut it. Saying that, this year we did win the FA Cup against Liverpool yet again 🙂 and you can listen to the commentary of that game here on my Heathens Global audioblog.
The point stands though that it was only a slight gain, with 2024 bringing us the Champions League plus 75 league points and 2025 bringing us the FA Cup, 79 league points and the toffee cup of the Club World Championship. In fact, if you consider the much greater achievement of the UCL over the FAC you could say we regressed.
So what to do this year to right that wrong? The table shows those three culprits as mentioned whom I need to overcome, namely City, Liverpool and Chelsea, who have dominated the league since the save started in that order. After beating every other opponent in the league home and away the obvious answer is to win the 6ptrs with them, which will give me a possible 18 pts, reduce each of them by 6 pts and therefore win us the league, so all well and good.
The problem is then how can we improve aside of the usual tactical revisions when our team is pretty damn good already as you can see below? In addition, even if we did go to market most all of the world's top players are either ..
IFs or AMCs (positions we don't use in our narrow 4222)
Not for sale (City have just refused 200 mil for Mbappe 😦
Just ridiculously overpriced in general (all my other top 5 targets are 150mil+).
Struggling for an answer then my hand was slightly forced due to our crap finances. As I have mentioned before, the cost of the affiliate programme is massive, taking up at least a quarter of our wage and transfer budgets. To give you an example, here is the initial fee and wages of the first 10 of our 30 current loanees, totaling 120 mil and 303k p/w in wages alone.
You might find this outrageous but don't forget that this is the point of the save so I am not too fussed. However, the result is that the board dropped our transfer revenue percentage to just 45% and set the budget at 66 mil, which as I say is not enough to compete in the top market. Conveniently this was also in the same week that all our loanees returned just begging for some first-team games, so go figure.
So, my path decided, here they are. Yes, the bottom half are bobbins, so they will be back out again, but from the top half down to Adama Kone, it's looking pretty good to bring them in as a 2nd or 3rd rotation option, given they're only 2 or 2.5* CA compared to my first-teamers. The other good news is that after 2 or 3 years on loan all bar two of them now have work permits, which is nice 🙂 :
Now this won't be all sunshine and roses as some will need to be loaned again or sold due to not fitting our tactic and being untrainable but on the whole it should give me about 6-8 youth options that will a) recover our finances and b) strengthen the team. Prior to all that though, I needed to sort them even further.
The sifting and the sorting pt. 1
Firstly, it's important to establish straight off who we are keeping in and who we are letting go or loaning back out. For loaning back out I decided to drop anyone who was either less than 3.5* PA (I know, I'm spoiled); without a WP or not suitable for our tactic. I then went through each of these and offered them for loan, following the loanee path process I set out from my previous blog Heathens Global #7b: The away leg: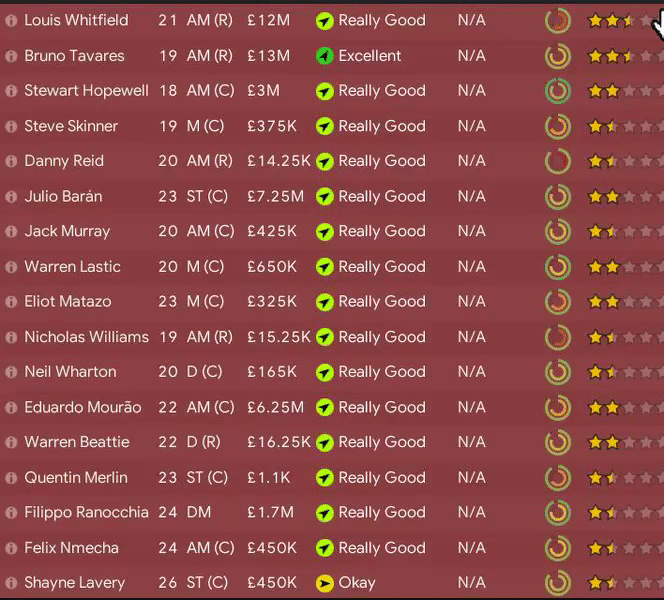 When that was done, I went into the remaining players' status and set them to senior squad, also making them all unavailable for loan until I had had a chance to analyse them further.
I then did something that some of you may find odd but which I have used a lot and blogged about before, which is namely using acronyms to label players, prefixing all their names with the letter y and their position. The reason for this is that it give me at a glance information on any screen about who they are and where they play, even if I can't see the other tabs such as on match tactics view. It also has another purpose in that sorting them by name bunches them altogether in the squad view: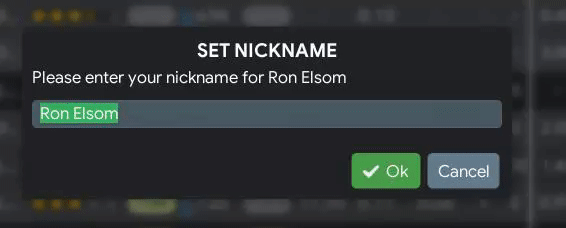 I find this especially useful in the squad depth screen when you can clearly see where these players sit in the hierarchy, which in this case worked well as it immediately told me I have too many youth strikers who won't all get a game:
The sifting and the sorting pt. 2
Then came the hard bit, to chop this following shortlist down so that they would realistically get games:
To summarise, from front to back it is as follows, with my first reactions:
4 strikers (3 natural AFs and 1 PF) = can only keep 2
2 centre mids (1 RPM and 1 DLP) = we are already overloaded in Midfield but keep both and review in January
1 natural central defender (though we have another due back at any minute) = keep both, will get games
2 natural right wingbacks = keep 1 as we are already overloaded in that position
1 goalkeeper = keep for rotation as our no.2 Jordan Pickford is want-away and may leave (though if he doesn't go this guy may not get the games)
I then drilled this down even further by the following:
Playing and watching them in friendlies
Delving deeper into their stats whilst on loan
Considering the age and stage they were at
Which in other words was an assessment of the likelihood of first team success and impact. This then left me with these final 8 (hereafter 'the prodigal 8'), which I think is much more balanced as it has 2 each of STs, MCs and CDs, a decent RWB and a GK:
The plan forward: games, games and more games
So, now that the path is set, how to move forward with it? Well firstly, I need to set realistic expectations as I can't expect a bunch of 2* CA prospects to suddenly win us the league, despite their 4 or 5* PA. In fact, straight away I think I should acknowledge that it could take three years before they have a proper impact. Instead, these are my general aims and the way I will be looking to use them:
Give them as many starts and sub appearances as is reasonably possible (for this read at least 1 starter and 2 or 3 on the bench per game)
Aim for between 10 and 20 appearances across the season
Review this in January based on their progress
Use them mainly to rest key players to give us strength when facing the big three (City, Liv, Chelsea) or in periods of fixture congestion
Put them in targeted mentoring groups for the best training
Take over individual training where necessary
Measuring success
The proof of the pudding is of course in the eating, so I have decided to set my boys some targets. I could spend all day on this so have tried to keep it simple with just 1 target per position that I think sums up the purpose of their role the best, for either defending, supplying or scoring:
Of course these won't be looked at in isolation and will only be part of the overall picture, for which I will also use this squad view containing the key metrics for each position + their attribs (there are more columns as you scroll right):
In fact, this is my new squad view for all my players and I have uploaded it to steam for you to use here if you like: FMheathen squad view
Summary
So that, people, is where we are up to. I don't have a lot to add at the moment as I am only 6 games in and don't want to draw too many conclusions except to say it is going pretty well with the rotation really helping the squad in general and some good performances. That said, I will start to do a playthrough and keep you updated in the next episode.
However, I couldn't resist ending it on this lovely piece of composure from Antoine Henry to knock Everton out of the League Cup right in front of the new stand in our 71,5000 stadium with his debut goal on his first full start – until next time, enjoy 🙂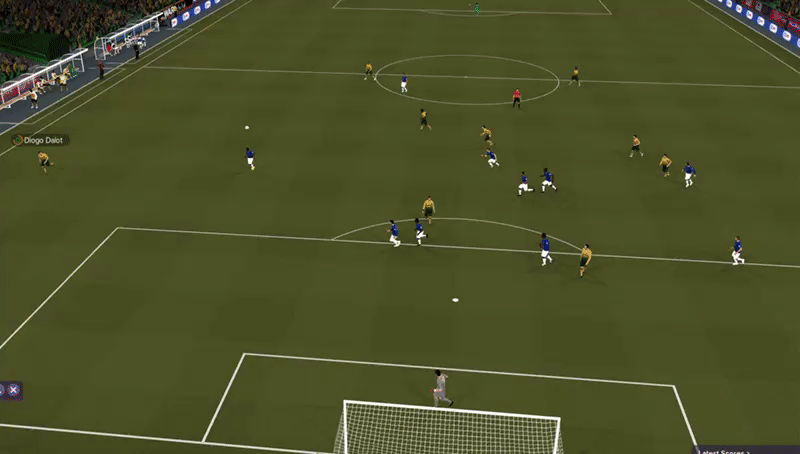 Bye for now, I'm on slack and twitter at #FMheathen and @FMheathen so let me know if you have any questions or suggestions.
Cheers, Daz