"All my coaches tell me that I have been under achieving"
Shane Warne
"You are an idiot … you are an idiot … you are an idiot .."
Eric Cantona, 1991, one by one to every member of a disciplinary board
You know that moment when you do almost everything the board wants on a budget of 500k and they still want to sack you? No? Then try FM with a low or mid table side this year; especially one who has over achieved so far, either that or stick needles in your eyes.
This is the fate that befell me at the end of our 26-27 season, with the board being pissed at me and getting me on the carpet for not getting Champions League qualification, DESPITE getting to the semi-final of the Europa League, finishing 5th in the league; qualifying again for the Europa AND signing Neymar, sorry did I mention SIGNING BLOODY NEYMAR! and all of this while they are virtually going bankrupt behind the scenes with only a little bit of it being my doing with added transfer fees.
All that said, let's break it all down …
1: "10am, boardroom" the note read
So this was the moment I'd been dreading, after barely scraping past 'satisfied' on the board rating all year I knew it was coming, despite the occasional peak to 'pleased', such as after we broke out of the group stages of the Europa League. To be fair to the board, our form was, shall we say, a little patchy right through the campaign.
Understandably I was more than a little annoyed at this turn of events ..
The result of the meeting was that the board gave me an 8 point target in the first 5 games of the new season, plus a paltry 800k budget to achieve it with! Which brings me to the next point, the shocking state of the club's finances ..
2: Not a French chamber pot to piss in, (for 7 years)
Now let me explain where I am coming from here, my approach to handling club finances is that it does not interest me in the slightest. As far as I am concerned it is a ridiculous addition to the things we are judged on as FM managers which makes no sense whatsoever. In a game which is so incredibly detailed in terms of the input we can have into the whole playing and transfers side, why on earth would SI include something that literally never happens in real life management except if you're in non-league and are the chief cook and bottle washer as well as the manager, coach driver and toilet cleaner. I mean, can you imagine Jose being pulled up for over spending on the wage budget or the terms of a loan when he clearly couldn't give less of a fuck about it? He would tell them where to stick it and as such it is totally unbelievable in my opinion.
So, rant over, how to deal with it in FM? Well basically my approach has always been to try to stay within transfer and wage budgets and also to try not to load too many future fees on transfers. That said, when the club wants unrealistic results because you've overachieved (for this read me, who got promoted in season one and has never finished below 7th in Ligue 1) it isn't so easy to do. For the first part, I have never faltered, staying within their poxy budgets for year on year, but for the second I had no choice but to backload some future fees that I think it's fair to say have contributed to the financial mess we are now in. For this read Alessandro Plizzari, bought for 12.75 but with 7m back loaded over three years, and a couple of others which totalled around 10m in future fees over three years.
However, the board ended up 25 mil in debt at the end of last season! Therefore I am calling it 25% my fault and 75% theirs, the total fools.
This also isn't helped by bugs such as this, where we are incorrectly being judged on 'bad finances' on deals that are in fact excellent and punching well above their financial weight. For example, check out this one, where I am being marked down for loaning out a player that only cost me 160k but is now raking in 250k a month! (Already reported on bug forums here if you want to look).
Now you may wonder what this has to do with this save, in other words why can't I just ignore it and crack on? Well the problem is that when you're down to about 3% or whatever the hidden metric is of board approval rating then this can tip the balance, which I think was the case here in my summons to the board room. Anyway, enough of that negativity, let's crack on to my new favourite FM subject, Neymar at Caen!!
3: The boy Neymar aka the hub of the Caen wheel
One thing that has never been an issue in this save is the board target to sign players under the age of 23, which bar the odd hiccup I have always achieved.
With that in mind, as you no doubt are aware if you read my last blog La Libération de Caen #8: bienvenue Neymar! I decided to go for the 34 year old Neymar on a free with the hope of squeezing the last ounce of playmaker goodness from his tired and battered frame because, let's fact it, whether you like him IRL or not (given he's a bit of a weird bellend at times) it was fucking NEYMAR, ON A FREEEEE!!!!!!
Without repeating that blog which was more about his signing than performance, let's see how the boy fared, which was very, very well indeed 🙂
Shooting like a rat from a Salford drainpipe before the benefit cheques are in he absolutely stormed it, rising to my expectations to be the side's prime supplier with a glorious 17 assists and 6 goals in all comps, and boy did he love Europe!
Also, do not look at that 6.97 avg and think that that is all the story, for the boy was at the absolute hub of almost every game he played, involved in almost every attacking move and with the most chances created per 90 (1.14) and the 2nd most key passes (2.05) in his pocket by the end of the season.
To give you an idea of what I mean, here he is creating a golden chance from nothing that led to a goal (though the gyazo time ran out before it went in).
But enough of things that were, what about things that have just happened, like how we managed to scrape survival from that 8 point target! It all went like this ..
4: 5 games to rule them all, 8 pts to save the save
Well first off I have obviously achieved it otherwise I wouldn't be here blogging about it but if you want to see how I approached it then here we go.
First off, there was the usual squad review matched to the 550k (I kid you not) transfer budget. After about 20hrs in game, much scouting and many trials during the summer window it ended up like this, with 1.7mil brought in and 7.75mil going out ..
The good news was that with a focus on sorting the finances I had managed to get players on frees that were worth over 10mil in total and also these tasty fee paying loans bringing in 700k per month to shore us up a little in the coming year (BTW does anyone know when you get those funds? They're still not showing up a month later???)..
I also introduced a nice little back to basics 4-4-2 to try and win games cautiously without any daft risks attached, which quite wonderfully started to work well until it led to us needing just two points from two games ..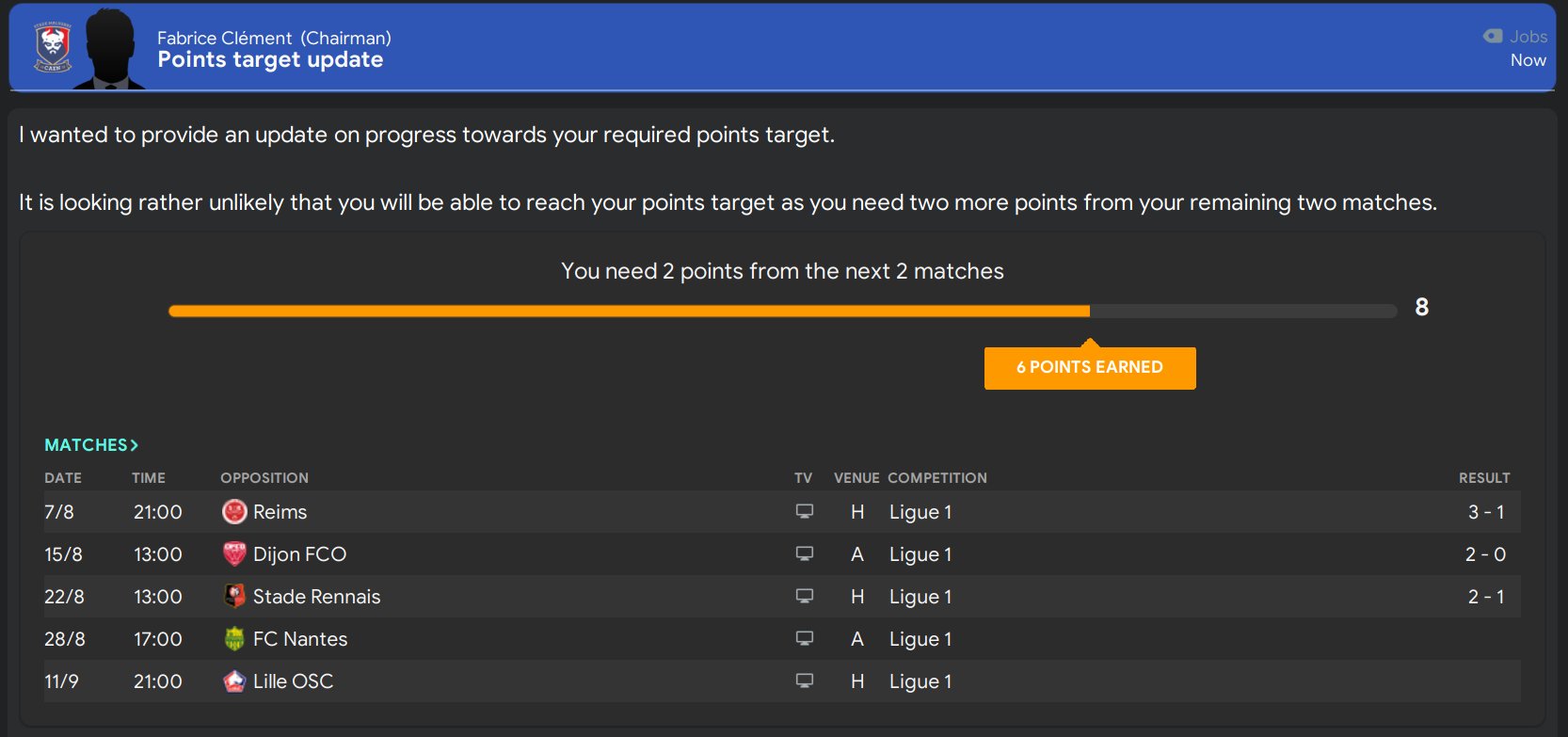 We then went on to draw the next game until I nervously fired up audacity to record the audioblog for our final glory or die game of the target against our old rivals Lille, who were flying high in the league at the time.
Quite wonderfully, and in total contrast to a lot of the games that I audioblog, we managed to win convincingly to save the save, oh yeah baby 🙂 I won't tell you the exact score but if you fancy a listen you can do that here:
All of which resulted in this of course ..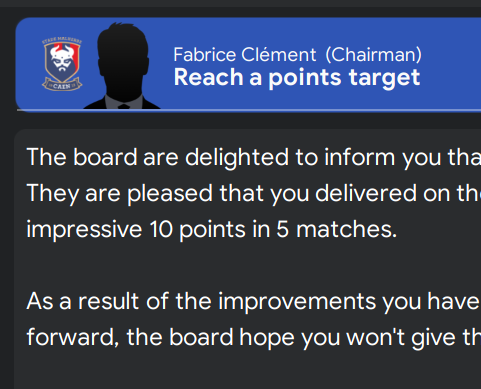 5: Going forward (aka Neymar's knackered legs)
With allllllll that above behind us, how do we look going forward? Well the good news is that ..
A) We have properly started to consolidate, currently standing in 5th in the league (with a game in hand) and 2nd in our Europa League group behind Celtic (who got a stuff 94th minute winner at Celtic Park)
B) Neymar is still providing, with 2 goals and 2 assist in 3 starts (I have to use him sparingly), though gradually dropping deeper as his pace plummets
C) The board bloody loves us! (sort of)
So there you go chaps, hope you enjoyed that, it brings you all up to date so have a good week and see you soon.
Best wishes,
Daz aka @fmheathen everywhere