Hello again, happy new year and welcome back to New Bank Street for a very long overdue update which this time is available both here and in a new sexy soundcloud version which you can either listen to on it's own or use to accompany this blog. You can find that version here:
I often find that there comes a time in every save when it is so completely enveloping and time consuming that it's hard to think about doing anything else such as blogging, so my apologies for not putting anything out for a while. In addition, it's been Christmas so I've been busy either getting pissed, eating too much or sleeping it off. However, as you will know if you are one of my twitter followers it's hardly something I keep quiet about as I tend to tweet constantly about what's been happening. That said, let's get back on track with (what I think) is the first update for two years and as there's so much to include due to the nature of the save I've split it into both HOME and AWAY categories over the next two blogs as follows:
HOME (this blog): in other words a regular save update of how we are doing ourselves as a club, both in the league and in the cups
AWAY (the next blog): the affiliate programme and its effects on our main team, the loanees and the affiliates themselves
The League (with added tactics)
So the last time I updated you from 3-4 years ago we had just been promoted and we have done soooooo much since then including TWO trophy wins (more of that later) that it's probably best to give you snapshots to bring you up to date quickly.
First off, let's deal with the league and here is our recent history added to the previous narrative I setup, which was a story of a mid-table premier league side who had never really challenged for the title who had been relegated in 2017-18 due to a points deduction for fielding ineligible players. The aim of course was to put that right and as you can see, we are making good progress towards that aim, with that promotion followed by 10th, 7th, 6th and 3rd places in the PL for the last 4 years.
The challenge now of course is to crack on and break into the top two, which annoyingly have been City and Liverpool as you would expect.
In terms of what this looks like in reality in the league table, here is how it finished last season and as you can, there's nothing between them except GD (lolz City 🙂 ) but we're not far off at all:
So onwards and upwards, here is how it is looking now, in January 2024, and all I'm going to say is Pep has now left City and as you can tell went to Chelsea ffs. As you can see though, again we're not far off at all, and potentially only 3 or 4 pts short given our game in hand:
Now you might be wondering how we managed this glorious ascension and it's best summed up by three T's:
TIME: I've had all Christmas to devote to it
TEAM: I've done some pretty good recruiting
TACTICS: I've abandoned the cheeky halfback which you might remember from my last post Heathens Global #6: a cheeky halfback.
These of course are all linked together with the time part being been mostly analysis which revealed that the tactic, as expected, was seriously lacking when it encountered the ridiculous proliferation of Inside Forwards at the top level. In other words, every time we were caught out of possession with our WBs high up the field, our two CDs were spread far too wide leaving the channels open for runners cutting inside, who exploited our single fill-in CD in the form of the HB who had legged it back. It also cost us on crosses too, because if the wide CDs failed in their tackle, again it left us cruelly exposed.
The result then is this, our current 4222 (or 2422 Dm as FM calls it) that while a work in progress, has been brilliant ever since for us (please note that the roles aren't at all static and often change according to the game):
My initial reasoning behind this was to overpopulate and close off the final third to Inside Forwards in defence, then recycle play forward quickly via creative midfielders and fast WBs directly with expressive play which also overloaded their final third with those central midfielders and DMs.
It is not without it's problems though. For example, defending narrower can lead to unmarked wingers leading to dangerous crosses, especially as my WBs have no marking duties in order to free them up to crack forward. As you might expect then, we can occasionally struggle against teams who play wide, though it does depend on their quality:
But what is a tactic without a decent team to fill it? My aim over the last few years has been to fill those positions with at least 2-3 young elite players per year to the point where it is looking like this:
If you know your FM and world football in general you can see that we've got some very tasty players here, in particular (though it has took him two seasons) Fiete Arp has started to play ridiculously well this season in that DLF role, moving into that right channel with aspects of both a DLF and a Mezzalla. For example, here are his touches and heat map for the last game we played:
.. and his outrageously good form this season:
In addition, we have the likes of Juan Miranda and Kimmich as WBs, a solid core of Tomas Souckek and Thiago Maia in the DM slots, as well as Melegoni and Werner, who are still improving to be fair. Oh, and one VERY important signing that I have just made in Kai Havertz, whom at an inflated January window price of 83mil is a player that I hope I can build a team around to help us push on to that next level:
Cups
As you might expect, with a massively developing team like this, it wasn't long before we lifted silverware with the Carabao the first to go and Arp once again the saviour as his single goal was enough to beat Arsenal in ET from a sublime direct counter after an Arsenal corner.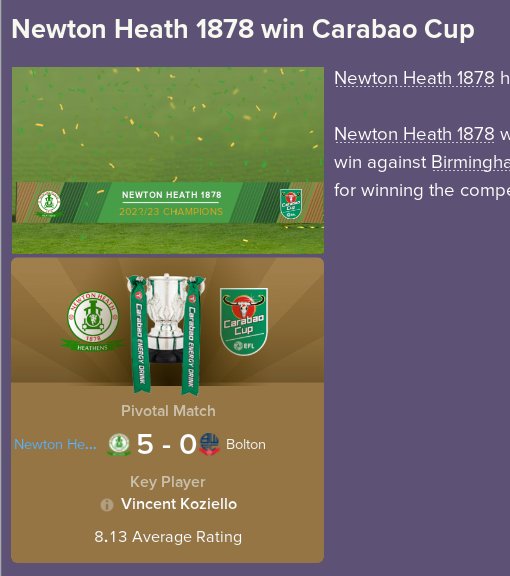 But that wasn't the full story as I was more pleased with beating City 2 nil in the semi final, when my demon anchor man Tomas Soucek totally dominated Gabriel Jesus, which I was quite happy with as you can see from the tweet I sent out at the time 🙂
But that wasn't all, for more trophy glory was to come when we converted that Europa qualification into a win last season, first by coming top of our (fair to say, pretty easy) group and then by beating Inter in the semis and Bayer Leverkusen in the final with a stunning injury time winner from Luka Jovic (it was also the same match by the way where I spotted
Kai Havertz, who had an impressive 156 touches and the most passes of their team in 50 received and 47 completed) :
I was most pleased with this final winning goal because although the finish was clumsy it showed off our tactic perfectly as per the following sequence:
Here's what it looks like in the (virtual) flesh, yeah, it's awkward and not aesthetically pleasing but you can see that even after two tackles we come out with the ball due to our increased numbers and let's face it as an injury time Europa winner you will definitely take it: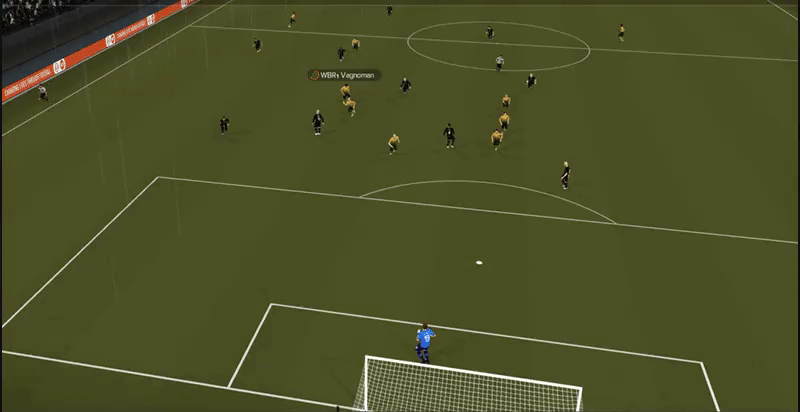 So there you go, you are now fully up to date with the HOME part of the save, I hope you enjoyed it and please join me for the AWAY edition in the next blog when I will show you how the affiliates are doing.
Thanks for stopping by,
Daz, aka @FMheathen