1: The view from Eddie Colman court, by Daz (age 8)
""The Heathens are going places, we might be bigger and only a mile away at Maine Road but you've got a million times our passion." Denis Law, September 1961
As I sit here on this March morning pondering in my office at Bank Street I glance over at the framed banner that welcomed Denis Law back to Manchester in 65′-66′.
What a day that was for the fans as, after a torrid time at Torino, the man who was to become the 'King of the Clayton Rd End' joined us to help us win the league and have a lovely dig at our fiercest rivals Manchester City, who had let him go to Italy a year earlier on extremely bad terms.
This image resonates with me after recent events (more of that later), with my window barred with scaffold not dissimilar to the prison bars of Strangeways just two miles away (our capacity will soon be 25,359 after this third expansion in as many years).  It reminds me of how this journey has really always been about that rivalry with our noisy blue neighbours, from our humble beginnings in Heathens Resurrected: an FM18 labour of love (prologue) to what I hope will be it's glorious end.  So with that in mind, please indulge me in this brief blog post as I step outside of this office and character for a few minutes, to a world where Newton Heath did indeed become Manchester United in 1902 and went on to become the great club which (some of) you may love, called Manchester United.
In that universe I am Daz, an eight year old Salfordian who likes bikes, penny arrow bars and spud guns.  I can see the top of Old Trafford from my council flat near Salford Precinct in Eddie Colman court, named after one of the Busby babes who died at Munich (John Lester and Walter Greenwood courts are on either side, also named after Munich victims).  It is 1974 and tbh I'm not that into football apart from playing it with my mates in the street, but I am well aware of my dad's love for United, which consumes most of his life and dominates most of the conversations with his mates.  He only goes to the odd game at the time due to being on yet another strike as a railwayman, which always seemed to be the case when I was growing up in the 1970s.
My introduction to live football was therefore not from Dad but by accident and the total opposite to what you might expect.  I called for a City-fan mate to play out with me and him and his dad were off to the game and asked me to go, so I went, simple as that – because you did those sorts of things back then.  It was so matter of fact that I probably didn't even tell my mum where I was going. City were playing Liverpool at Maine Road.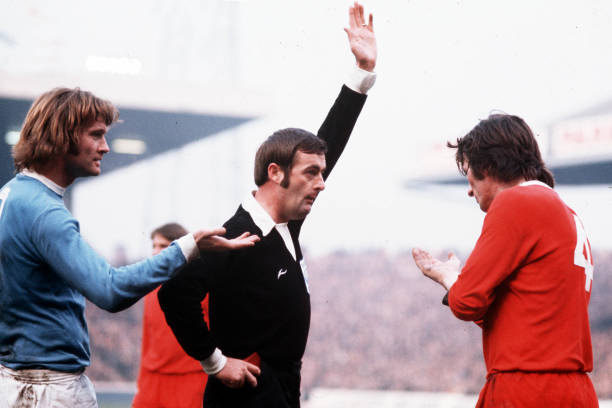 My first experience of live footy therefore was against the two teams that my dad detested the most, which serves him right I suppose for not taking me himself to Old Trafford (later he will become a rugby man for ten years and he will take me to Salford games every week, so he was still a top dad 🙂 )
The first thing I remember was entering what felt like a cage, rammed in between about a million people without being able to see a thing except the backs of big shouty blokes wearing city scarves without a single replica shirt in sight.  Above us was what I can only describe as a suspended mesh wire curtain covered with small silhouetted metal discs and the odd beer can even before the game started. As more started to rain down upon us as the game started I realised that they were 2p pieces kindly donated by the Liverpool fans in their own cage next door, with many of them sharpened no doubt.  All I remember is thinking that I would be rich and could buy everyone in the street an arrow bar if I could get hold of a handful 🙂 .
Other than that, I don't remember a lot about the game apart from the shouting and the to and fro of the crowd.  Oddly I don't even remember if we were in a seated section but if we were we ignored it and were all standing anyway.  I got glimpses of the game through the mass of working class arses and remember two massive moments when City scored (Denis Tueart and Rodney Marsh) which was exciting only because we all got threw forward and everyone went mental.
2: Fancy coming to Utd tonight?
So there you go, confession over, my first game was indeed City vs Liverpool, but not really, not in my heart, because it felt nothing and I was just a passenger.  For various personal family-related reasons my first proper game wasn't to come until I was 17 years old and in the best possible way; when I went with my mates to watch Utd try to overcome a 2 nil deficit in the European cup 2nd leg quarter final against Barcelona and the incredible Diego Maradona.  Now of course I realise how lucky I was for this to be my debut game as it is now widely regarded as one of Utd's greatest European nights. What a game to choose.
Since then, I have been to many European nights at Old Trafford with my own son, most of which have been highly memorable, but I can tell you for certain now that I've never witnessed an atmosphere like that night, when Bryan Robson grabbed Barca by the throat and shook the life out of them, scoring two out of three (Arthur Albiston got the third) and driving the team forward.  What a night …
So let's go back to City and Liverpool, where they sit in my own footballing universe and what the fuck this has to do with FM and my Newton Heath story.
Predictably, as you can imagine as a Utd fan I can't stand the pair of them, but for me it has always been City whom I have absolutely detested the most. When we play Liverpool I join in with all the other fans in our combined rivalry and feel just as destroyed if we lose and just as ecstatic if we win, but there's something different about City, because every time I see their fucking badge and pale blue colours, it triggers something inside that I just can't explain.  Nothing personal against their fans (or blue FMers), I just hate the club.  Really fucking hate them.
I know exactly where it comes from.  I have worked daily alternating between Liverpool and Manchester for years now, so much so that weirdly I don't even notice a scouse accent these days.   I'm also fortunate in that the people I work with are mature professionals with whom you can have a decent grown up conversation about footie – we still take the piss when we beat each other big style but it's mostly with a mutual respect.  There's also one thing I can say for certain about Liverpool (and Everton) fans – they know their fucking facts about football, whether you disagree with their colours or not.
3: Who's that t**t from Argentiiiiiina? Who's that money-grabbing whore ..
The big difference of course is that I live amongst the Man City fans and just like any other twin-team city, we are deeply divided.  I have had the displeasure of being shouted at by a pissed up blue cousin at my Dad's funeral (I gave it him back of course); being verbally abused across the road by a neighbour when returning from a match with my son while wearing our scarves (we had lost 3 nil to Liverpool, by pure concidence); had an old boss who literally ignored me for a month because I cracked a joke about Mancini and much, much more.
And who can forget Tevez's back-stab move across the City and the classless manner in which it was executed?  All I'll say is that when I was stood in the Stretford End watching him walk out for the league cup semi second leg he broke my deep red heart, the lousy bastard. All 70+ thousand of us had supported him right through his contract negotiations and I don't mind telling you that I cried a few times that night – both in sadness and then in joy as we knocked the fuckers out against the odds with a 3-1 win to negate their 2 nil lead from the 1st leg.
So there you go, hatred breeds hate, which is why I feel the way I do towards everything pale (fucking) blue, even in a bloody computer game.
So that takes us back to FM, and to my not so little Newton Heath 1878 universe here in my Bank Street office – I can see the lads are starting to arrive for training, lining up in front of  Gavin the brew boy who is rubbing all of their thighs with linament (bit odd) so I'm going to leave you with this screenshot of this season's final league table, which is the point of this whole blog post, in the hope that you might now better understand and perhaps share a little in my deep contentment at how it finished, even thought some people tell me it's just a game.  I hope you enjoy it as much as me (except if you're a blue). 🙂