Welcome back to a frost-nipped Bank Street on this January morning.  The kettle's on and I have a little something special in the kitchen that should warm our cockles, a lovely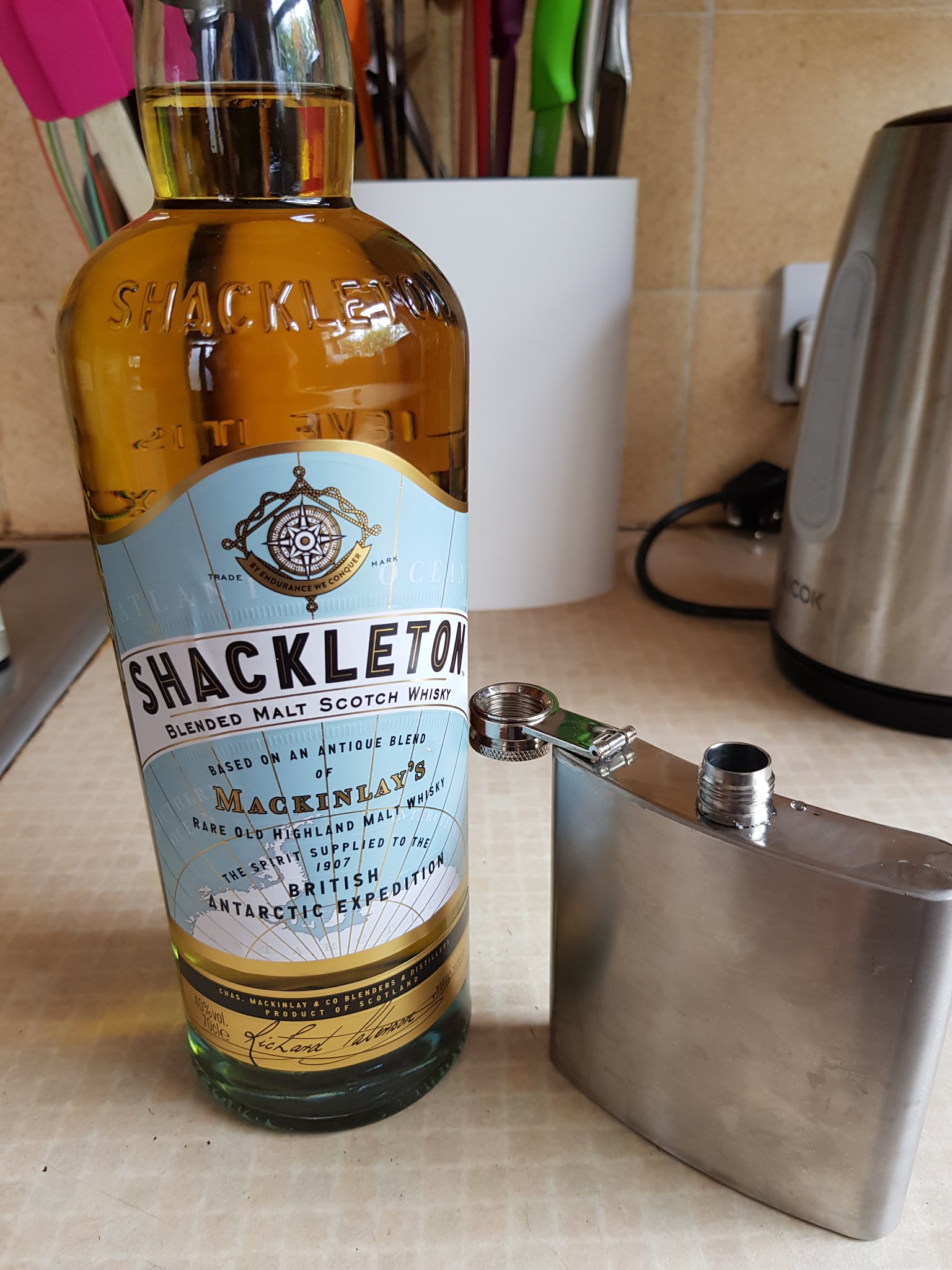 bottle of Shackleton whisky, recreated from the same blend that the great explorer took to the ice over a hundred years ago.  I mention this because by God I've needed it in the last couple of months as I feel I've took every step of that journey with him.  The man was a survivor alright and I'm hoping he will inspire me to do the same.
It all started back in September, when we failed to get our main summer targets of the stunning striker (Baby) Paulinho (not the current Barca one) from VDG and a few others who I'd targeted to improve mainly the defence and  help us kick on to the next level.
Prologue, Aug-Dec: that sinking feeling ..
With this in mind and with my still mostly-Championship level squad we started the season surprisingly well for the first 3 games, with two wins and a draw, but in the 4th game things started to go seriously pear-shaped, and from that moment on it seemed we couldn't score in a brothel with a giro tucked down our y-fronts.  These 3 losses began a trend that saw us lose 8 out of the next 9.   
I have to say that this was a bit of a surprise as, although we hadn't got Paulinho et al, we had made 3 reasonably decent signings whom were a cut above the rest of the squad.
Those players were the ageing Alexis Sanchez, Eddie Nketiah, who I had been chasing for ages, and a very decent left attacking wingback called Miguel Trauco:
So far so good, I thought, as one of my main objectives was to increase the amount of prem-level players in my starting XI.  With this in mind I adapted my usual offset 442 to accommodate them, already wary of the tactic being lopsided towards the left with, tbh, fuck all else on the rest of the park.  Here's how that tactic looked as of the season start, with just the key players for the tactic filled (this is the defensive version, though more often than not I played on the counter):
The rationale behind it is pretty simple, namely that the DLP covers the space left by the WBA, who is in turn backed up by my best DC.  It is possession-based, with PIs set to short passing right through to midfield and mixed passing from then into the final third.
As is often the case, in the first few friendlies it worked perfect, with Nketiah scoring 9 in 5 and Sanchez and Trauco with 7 assists between them. However it wasn't to last as 3 games in we started to lose big style.  This then continued at a gathering pace so by Christmas we had lost out 12 out of 18 in the league with just 3 wins and 3 draws.  I did the usual tinkering and morale raising but nothing seemed to happen and I was seriously losing love for the save.
The analysis
So, praying for the January window I set aside a day IRL where I was determined to do the following before pressing continue:
Scrutinise team reports for immediate areas of weakness
View all team comparison screens to see where we stood against everyone else in the league for all attributes
Watch all the goals against me from the last 5 losses
Review every players' stats including those out on loan to find the best XI e.g. best tacklers/interceptions for defence, passers for midfield and SoT/goals for attackers
Target key positions and choose players based on stats, not just stars (though stars are still useful imo to see how they compare against the rest of the team)
Watch FULL GAMES to see what was going wrong
All that done, these were the conclusions:
2/3 of opposition goals were coming from crosses from the left hand side because Trauco was leaving us exposed, despite the DLP cover
I was getting sentimental and starting some players for the wrong reasons rather than choosing them based on their stats e.g. because they were a key player or team leaders
From watching the full games it was clear some players were making a lot of errors that weren't always visible in key or extended highlights
The formation needed seriously revising to allow us to get more natural possession in the midfield instead of having to win it back all the time
We desperately needed the following – a DC, another striker and a creative midfielder, the rationale being more cover, more midfield passes and more goals 🙂
The first part about the opposition goals coming from the left was easy to spot and here is a quick example of such a goal against us from West Ham – they were so common this is literally the first goal I clicked for a screenshot and I can't believe I didn't realise it sooner, like when were were losing every bloody week! Doh!
New signings
That said, I needed players to match a new, more defensive (yet creative) tactic and, as Trauco the WB was an all rounder I decided to bring him inside as an IWBs, switching to def when required.  I also dropped Sanchez to midfield as his pace was seriously costing us (again I learned this from watching full games).
This left me overloaded with midfielders in the squad so as well as offloading the dead wood I went to the 4123 wide, with a strong midfield but only one striker, all set up for my new boy, Harold Preciado, whom I think has just become my favourite player in the whole save so far.
Following my new rule of scouting based on prioritising statistics over attribs and stars he stepped off the bus from Fulham with a 7.16 career avg and scored 1 and made 1 immediately 🙂 leading to him getting 5 goals in 7 in all competitions so far. What a star.
So that was the striker but I still needed another defender and a creative midfielder ..
The midfielder was pretty easy as I already had my eye on Rekeem Harper, a rock of a player who shrugs off every challenge when you watch him in game.  His tech and mentals are low to avg but what physicals! Not only that, he can play literally anywhere in the middle of the park and got a 7.28 avg for me over two seasons a couple of years back:
I also picked up Gabriel Barbosa, a former Inter, Santos and Stoke inside forward at a steal of 3.1mil, again based on his stats rather than attribs, though they're pretty good too:
He's another who hit the ground running, with 2 goals and 2 assists in his first 2 games and an excellent 11 goals and 8 assists from 23 this season while at Stoke.
And finally, I got my defender, which for me was my key position.  The incredible man-wall that is simply known as Vitão, who has a 7.19 avg, 2 assists, 1 goal and a 92% tackle completion rate in his first 8 games for us:
Here are those fellas then slotted into the new formation, with another new star. the instruction to 'roam from positions', which I've never been a lover of until now.  I'm using it because it has allowed players to be more creative in general and cover more of the pitch now that the general attributes of the squad are on the rise (by the way the BWM is not THE Busquets, but a fella called Oriel Busquets, from Barca B, who may or may not be related):
Working the tactic with more full games
As with all new tactics, it is unlikely to kick in straight away, so I made sure that I continued watching the first few games on full as I had done when I was analysing for mistakes.  This is something that I can highly recommend if you are on a losing streak.
For fault-finding for example it is much easier to spot mistakes that lead to either a loss of possession or goals (I found out that my right winger was being constantly knocked off the ball, hence why I got Barbosa as a replacement) and you can adjust roles and see much better the effect of small changes (this is why I changed Trauco to an IWB and Busquets to a BWM).
For me it also felt like I was reacquainting myself with the team and understanding them much better so it is something I would urge people to do given the time.
The results
So, what was the impact of all this?  Here are the results both before and after the changes.  As you can see it took a few of watching those full games to kick in but it's a big improvement that has seen us rise from 20th to 14th in the league on 29pts in the space of 5 weeks:
Summary
So, while I am by no means an expert at this malarkey, I am pleased to say that this time the analysis worked.  As always, our beautiful game requires time and I think that is the key.  Here is my final ranking in importance of the changes I made in terms of how much they impacted on those results, which I guess are tips for anyone else in the same boat:
Watch full games
Watch full games (did I say watch full games?)
Scrutinise at least the last five games, looking for where the goals are coming from, how many mistakes you are making and whether or not players roles are leaving gaps for the opposition to exploit
Review EVERY position using stats, not stars (or sentimentality 🙂 )
Target key positions for transfers
Buy players based on stats
Work the tactic using full games again
So there we have it, a little run through of how (on this occasion at least) I managed to turn things around.  I hope you enjoyed it and all feedback welcome.